The Political Party Conference season is now over, at least for the main UK parties (the SNP, Plaid Cymru and Greens still have theirs to go), and MPs will be returning to the Commons next Monday, 9 October.
Nudge Factory takes a look back over the past few weeks and assesses how the conference season has impacted each Party.
Member Happiness Rating

70%

MP Happiness Rating

N/A%

Positive impact of conference on voters

30%
UKIP
This was literally a make or break conference for UKIP as it was at their gathering in Torquay the results of their latest leadership election were announced. Most pundits had predicted a fight between incumbent Deputy Leader and London Assembly Member, Peter Whittle, and the anti-Islam, former Labourite, Ann Marie Waters. Many leading UKIP members had stated publicly that if the latter candidate had won they would have left the party; indeed, it looked uncertain the party would survive in its present form had that happened.
In the end, a surprise victory for Henry Bolton, a former army officer and policeman who had most recently stood unsuccessfully as a candidate for Police and Crime Commissioner in Kent. Seen as a much more mainstream figure than some of the other candidates, he is talked of as the leader who can unite the Party and take the fight back to the Conservatives on UKIP's prime, existential purpose – Brexit.
Whilst the Party still has internal troubles to overcome – not least a major funding crisis – the election of Bolton as leader gives them a chance of regrouping over the coming months.
Liberal Democrats
You would have been forgiven for not realising the Liberal Democrats had held a conference at all, such was the low media profile it attracted. Vince Cable seemed to be warmly enough received as the new Party Leader with no pressure on him from colleagues at the present time. He set about attempting to further decontaminate the Party from its spell in coalition with the Conservatives as well as make clear that his party is the only one offering an escape route from the Brexit process. The interrelation between those two pitches is important, as it is perhaps younger voters let down by the Liberal Democrats breaking their pledge on tuition fees that Cable is trying to attract with his promise to stop Brexit.
Overall, the Liberal Democrats landed some punches on the government and on Labour – most notably from Cable himself and Tom Brake their Foreign Affairs Spokesman. However, with little media cut-through and, given the low number of MPs the Party now has, this conference was largely an echo chamber of the party preaching to itself, albeit boosting the confidence of their band of activists.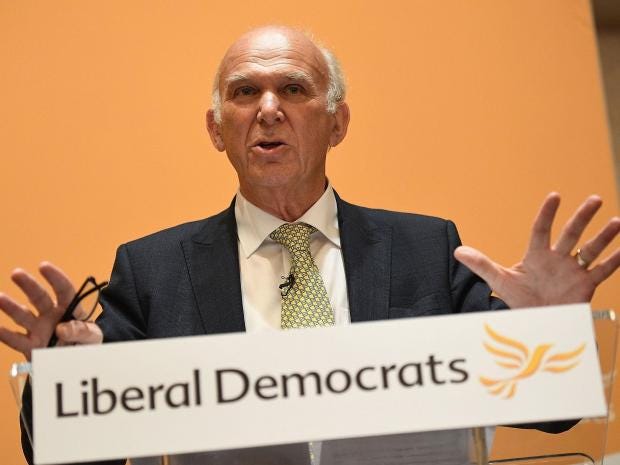 Member Happiness Rating

80%

MP Happiness Rating

80%

Positive impact of conference on voters

30%
Member Happiness Rating

100%

MP Happiness Rating

70%

Positive impact of conference on voters

70%
Labour
Jeremy Corbyn used his conference to increase his control over the Labour Party machinery and personnel. It is no longer just Momentum members chanting 'Ohhh Jeremy Corbyn' but even the Party's Deputy Leader, up until now a focal point of resistance against Labour's march to the left. Many MPs who have previously opposed him or refused to serve in his Cabinet simply did not attend the conference at all. Conversely, Momentum and Union members attended in droves and reacted to and reinforced a sense of optimism and positivity that team Corbyn has been building since the General Election campaign.
There is also a sign that the Party is being more ruthlessly professional in its planning. The decision not to debate Brexit during the conference was criticised by many members and most of the media. But the simple fact is had a proper debate and vote been held, it would have exposed the fault-lines in the party everyone knows exist. By not dwelling on the issue – even if it is the most important for the country over the next few years – they have managed to avoid all-out warfare and ensure that the focus remains on the Conservatives, who are just as divided. Meanwhile, Corbyn announced a series of populist policies – such as the introduction of rent controls – aimed at struggling younger generation voters. He even went so far as to announce that Labour was a government in waiting. The fact that this statement was taken at face value by many is perhaps more of a judgement on the state of the Conservative Government than of the Opposition's readiness to step up. But, even so, the change in Corbyn's and Labour's position in just a year is striking.
And yet…and yet. Corbyn still does not have the confidence of a large number of his MPs. There are calls for Labour to be an anti-Brexit Party that will not go away. There is a sense that battle is being postponed rather than avoided indefinitely. How long will this truce last? How long before MPs and activists opposed to the leftwards shift of the Party speak out again? Or is the Momentum takeover so complete that any opposition will be crushed. We shall have to wait and see.
Whatever the answer is to those questions, there is no doubt that as the House of Commons returns Labour is on the up.
Conservatives
Party members and MPs were desperate for the conference to set out a positive vision and direction for the future, to produce policies with which to take on Corbyn and Labour, and to provide activists with the energy and optimism to go out and fight the 2018 elections. Theresa May entered the conference wanting to shore up her leadership, regain a reputation for competence, and press a reset button in terms of policy.
None of these things happened. The conference was summed up by Theresa May struggling through her conference speech, battling a cough, having to deal with a prankster, and her suffering the indignity of the stage set behind her falling apart. The fact that she managed to finish at all perhaps won her plaudits for her resilience. However, the lack of new, credible policy ideas set out from the conference platform across the four days – even Nick Timothy, the PM's former Chief of Staff has bemoaned the quality of policy ideas – let alone a cohesive and positive vision for the party, leaves the Conservatives weaker now than they were a week ago. It was not just the PM who failed to deliver – too many in the Cabinet now seem stale and uninspiring.
It need not have been like this: the energy and number of policy ideas discussed at party fringe events was encouraging; post 2015-intake MPs and newly elected Metro Mayors, like Andy Street and Ben Houchen, showed there is talent and personality in the party through their contributions at events and meetings; and Boris Johnson, Michael Gove and Priti Patel gave members some hope, at least, to take away with them through upbeat speeches. But, overall, this was not enough to disguise just how badly the Conservative Party has lost its way.
Will the PM hang on? There is a full-scale 'shore up the PM' operation currently going on, with MPs and Ministers taking to the airwaves to back her. Whilst some do genuinely want her to stay for positive reasons, you cannot help but feel that for others it is a case of wanting her to remain in the job only for a limited time and until it suits their own agendas. Most Cabinet members do not fancy it themselves at the present time, as they would rather May stays in post and take all the flak over Brexit before they have a try for the job themselves. For some younger MPs and junior Ministers, they need their careers to progress before they can have a credible run at the leadership themselves. For yet others, an imminent leadership election seems most likely to result in a Boris Johnson PM, something many MPs on the remaining left of the party want to avoid like the plague.
Overall, the conference was flat, at best, and even the ConservativeHome website summarised the conference as 'pitiable' and 'directionless.'
The PM is weaker than ever and there are now serious doubts about how long she can last.
Member Happiness Rating

20%

MP Happiness Rating

40%

Positive impact of conference on voters

10 (barely)%